Gentle and relaxing
Help baby to smile again
Crying babies welcome
Specialist paediatric cranial osteopath
Recommended by Midwives
Advice for struggling parents
Cranial Osteopathy is a safe and gentle enough for new born babies, specially from birth. It is used to help calm and relax. This works towards giving your new born child the best start in life. Please click here to read our blog on cranial osteopathy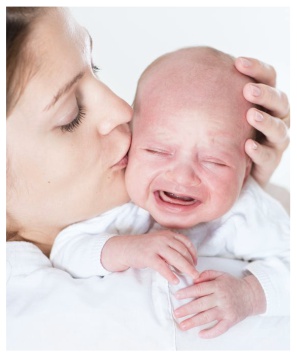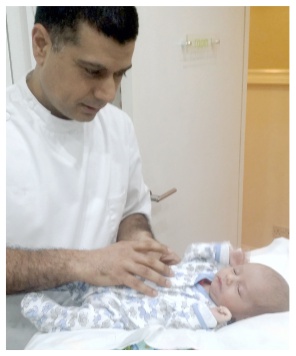 Cranial Osteopathy, First Visit
During a Baby Cranial treatment everything is explained step by step, and everything is very gentle. Our methods work to help your baby relax.
Help is at hand for parents too. Parents who may feel 'out of their depth' or in need of guidance at this difficult time. We spend time showing mums and dads how to support baby at home, to help continue the calming effects at home. Watch our free 10min Youtube Home-Help-Video here.
Specialist Paediatric Osteopath
Vispi Jamooji is one of a few paediatric cranial osteopaths in the UK to be awarded the Specialist Paediatric Osteopathic Practice qualification. This means he has completed the specialist paediatric training at the world renowned British School of Osteopathy, London. Combined with his experience as a senior osteopath of 30 years, you are assured of the best baby care for your new-born child.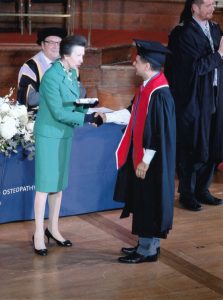 Vispi Jamooji receiving his specialist paediatric degree from HRH Princess Royal
(click to enlarge)

Vispi is a father to two beautiful daughters. His first daughter cried incessantly at birth, following an assisted delivery in the early 1990's. This was the start of his personal quest to explore new ways of calming and understanding the crying baby (Baby Cranial). He has a special interest in supporting parents of distressed babies, having experienced this himself. He is widely read and has a keen interest in sleep and feeding improvement.
Your Peace of Mind
As with all new-born babies we know new situations may develop at any time. So keep in touch with us by telephone, SMS or email, we will help, advice and guide you. The first few months of life are very special. We do our best to help you and baby enjoy these days, which we know pass all too quickly.
We have good relations with the medical profession. In fact we have treated many GPs and their families including their children. We work to support the medical profession and receive referrals from lactation consultants, midwives, doulas and doctors for new born babies and children.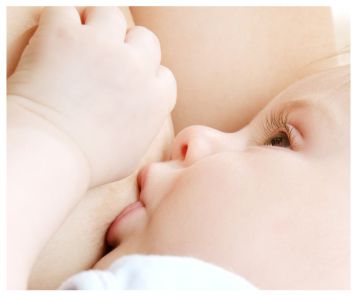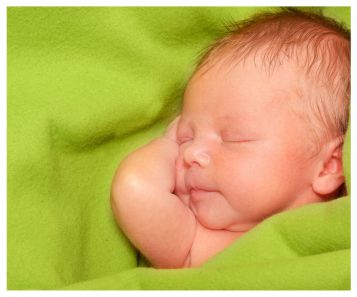 Children often develop neck and shoulder tension through poor posture and lack of physical activity. This can lead to loss of concentration, irritability and sometimes loss of performance at school. Teenagers are especially vulnerable to this due to their rapid growth and increased school work (not to mention heavy bags and sometimes poor diets).
Gentle cranial and paediatric osteopathy at the Living Centre Clinic can help with posture, strains etc and provide exercises for home,  but above all support and advice the parents on how they can help their child outside the clinic. We know the children and teenagers who visit our Wimbledon based clinic love their osteopathic and cranial massages and parents can see their child relaxing during a treatment.
Gentle paediatric cranial osteopathy can help support children and their families, where a mechanical component to their behaviour exists. Our qualified child-friendly osteopaths in Raynes Park can help detect if your child is experiencing a cranial strain. Cranial massage also works by helping a child to relax. This is more true in very young children who may not be able to express themselves, though may well be suffering. Strains may arise from birth or develop over time.
We encourage children to speak and always take note of their concerns and comments. We find this itself can be therapeutic and go a long way to helping a child relax. A relaxed child is more likely to overcome anxiety or behavioural obstacles.
Treatment Fees (for children 5 years +)
Treatment was relaxing and non-evasive. His sleeping improved and his little clenched fists began to unfurl.

Laura Thomas

Wimbledon
The cranial treatment really helped my new born son. Within a few days he was a new baby. Treatments are very gentle and my baby was cooing like a normal baby again.

Lezil Bartlett

Earlsfield
Babies are very clever, they know when something nice is happening. I was very confident about the treatment because she always looked so relaxed. After a few treatments my baby's face had changed from a frown to smiles.

Rosi Sena Baran

Mother of Mia