Deeply relaxing and calming.
Practised for thousands of years.
Provides support for many health conditions.
Used by adults and children all over the world.
Special interest reflexology for women's health.
Reflexology is a complementary therapy, used to support ongoing treatments by helping to boost the body's response to healing.
For many it offers an alternative approach because it is based on the premise that all parts of the body are represented in the feet. This extends to emotional as well as physical wellbeing. In this way it offers a holistic perspective whilst supporting an existing therapy, or acting as an alternative in its own right.
For More Details Select Therapist:
Genuinely caring clinicians to look after you.
Each with years of experience and postgraduate qualifications.
Professional and safe place to relax.
Choice of male / female clinicians.
Convenient appointment times.
Saturday and evening slots.
Each foot is systematically examined to identify areas of weakness or tenderness. This helps your reflexologist create a personalised map of your entire body, noting which areas need help or support.  Gentle pressure is applied throughout the foot with particular attention paid to sensitive areas. Sustained pressure is applied at key points until a tissue change is noted. This indicates an improvement is being made. This process is repeated on both feet in a systematic fashion.
The reflexology process is itself therapeutic, aiding relaxation. This makes reflexology not only a great health-boost, but a notably soothing one too.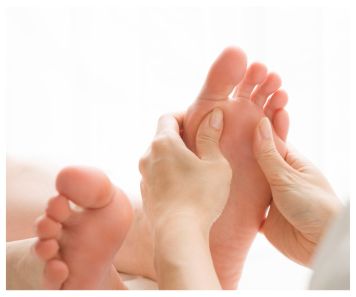 Lorem ipsum dolor sit amet, consetetur sadipscing elitr, sed diam nonumy eirmod tempor invidunt ut labore et dolore

Brian Smith
Lorem ipsum dolor sit amet, consetetur sadipscing elitr, sed diam nonumy eirmod tempor invidunt ut labore et dolore

Jane Doe
Lorem ipsum dolor sit amet, consetetur sadipscing elitr, sed diam nonumy eirmod tempor invidunt ut labore et dolore

John Smith