Trapped Nerve Treatment in Wimbledon, Raynes Park, Morden & New Malden areas.
Qualified & Experienced Osteopaths
– Tingling, Pins & Needles, Numbness?
– Pain in Arm and Shoulder?
– Back Pain, Leg Pain, Sciatica?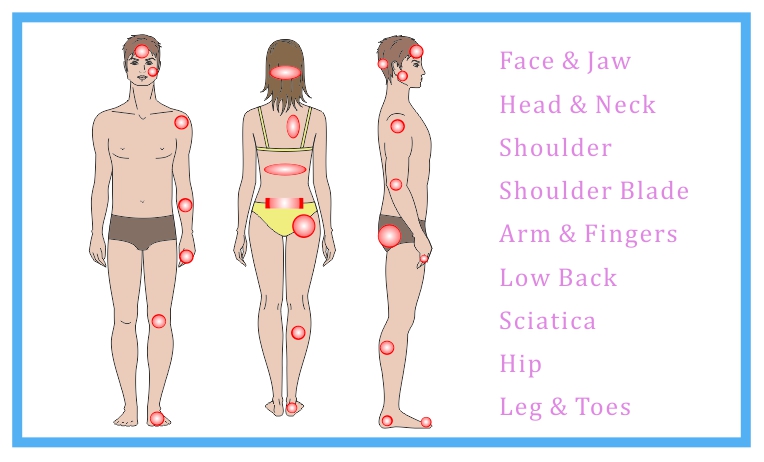 Nerves trapped in the spine are common. This usually happens when the soft jelly inside the disc oozes out and presses on the nerve. This oozing is termed a "slipped disc" (shown in red below), though in reality it can be considered  "leaky disc". Once it oozes out, the nerve is trapped between the ooze and the bone, against which the nerve normally rests.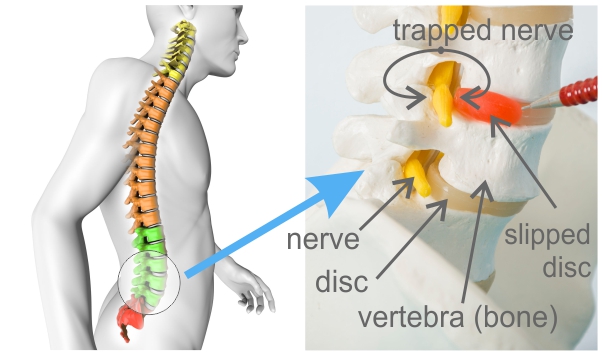 Image showing how nerve is trapped between disc (red) and bony part of the vertebra.

Nerves can also get trapped in other places in the body. Common areas are the elbow, knee and in ribs. Depending on where the nerve travels to, distribution of pain can vary.  Sometimes in very odd places, such as face pain, pain behind the eye, pain in your arm or fingers. Additionally depending on which nerve fiber is trapped symptoms range from pins and needles, sharp lanciating pain, dull ache, burning pain, pain on breathing, twisting coughing etc.
Nerves can also get trapped from degeneration of bones and soft tissues which can cause another set of symptoms. This can arise from inflammatory disorders such as arthritis for example.
Nerve pain can also arise from referred pain. This may arise prior to the pain of a trapped nerve. These symptoms have a different anatomy and character. The best known example of referred pain is the pain of cardiac origin. Though the heart sits in the chest, pain can be felt in the arm in the early stages. This means referred pain may be noticed in almost any part of the body, including the face and can be very confusing to the patient. It is not normally associated with pins and needles, numbness etc, just pain.
For the above reason it is important to ensure your symptoms are being attended by experienced clinicians, such as those at the Living Centre Clinic, SW20. Reaching an accurate diagnosis is key to working out which pain is referred and which is from a trapped nerve, as the treatment and prognosis may vary widely. We have years of experience not just in diagnosis, but in providing effective treatment, reducing your suffering time and helping you to return to life as soon as possible.

Diagnosis and Treatment
The key to successful treatment is in reaching an accurate diagnosis. Nerves are delicate structures and can often create confusing pain pictures. With the right experience and care we can help navigate you back to health.
At the Living Centre Clinic Wimbledon we have extensive experience in freeing trapped nerves, wherever they arise. This is because we use a highly specialised treatment couch, designed to release trapped nerves and ease sore muscles. Very few clinics in the UK have possession of these treatment couches.
With successful treatments since 1986 we have experience in providing swift relief.  Together with remedial exercises, you will feel good that you have a solid route back to good health again. Where needed we also refer for x-rays and MRI scans and frequently work with local doctors to help you achieve the best results.  Your visit includes a full joint examination, diagnosis and gentle hands-on, massage-style treatment. We avoid harsh manipulation and always work with the patient's wishes, regarding how they would like to be treated.
7.30am to 9.00pm weekdays and Saturday 8am – 6pm.
Treatment Fees are competitive.
Emergency appointments same day.
Untrapping a nerve is often a delicate procedure. The most important thing is to identify what is causing the pain which an be complicated as mentioned before, and then identify the best way to relieve it. Treatment is aimed at the trapped nerve as well as the areas of the body supplied by the nerve. This is because continuous nerve stimulation can upset the harmony of the tissues it supplies, making it sore, tender, stiff, or sensitive. A qualified osteopath, such as those within our team, will apply a range of gentle techniques which treat the cause and the symptoms.
The treatment also looks at the forces passing through the muscles, bones and joints. This helps reduce pressure on vulnerable areas. The Living Centre Clinic's osteopaths use a special spinal decompression table to relieve the pain of a trapped nerve, gently easing free, using a soothing rocking motion. This helps clam hurting tissue and helps nourish fatigued spinal tissues, by helping to re-hydrate the disc.  The Clinic is fortunate to have these tables, as our patients note, they are rarely seen in other London clinics.
We understand that fear, anxiety and fatigue also affect your energy, your moods and levels of pain. That's why we take a sensitive approach in managing this stressful time in your life.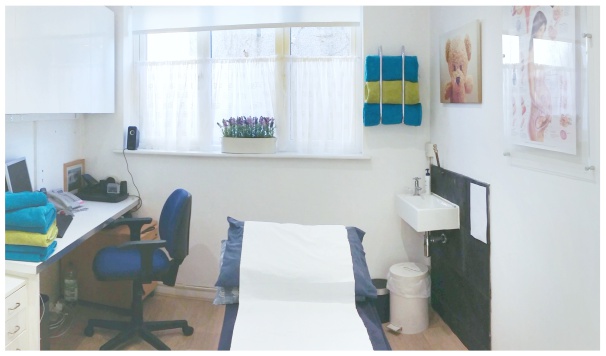 With an estimated 70,000 treatments at the Living Centre Clinic Raynes Park, you can be sure your experience of healthcare comes with an osteopathic pedigree.  The clinic is well connected with the medical profession. We refer patients with back pain, slipped disc, arthritis and other spinal complaints for x-rays, scans etc whenever needed.
What sets us apart from other clinics is our 'knowledge sharing' philosophy.   The clinic has a policy of sharing expertise and clinical skills between practitioners since 1986. You can be sure each of our therapists is enriched from this, offering you a higher standard of care, which we believe translates to better value for money and a shorter treatment course.
The Living Centre Clinic see patients not just from Wimbledon, Raynes Park and Morden, but much further afield too. In fact our reputation for our excellence and personalised treatment care attracts patients from all over London.
I have recommended the Living Centre Clinic for osteopathic treatment to my patients with excellent results.
Mr F Johnston, Consultant Neurosurgeon, Parkside Hospital, Wimbledon, London

DrF Johnston

Neurosurgeon
As a practicing dentist, my job means I am bending over at the neck and back all day. This extra stress on my spine makes me vulnerable to "Bad Back Days" The Living Centre Clinic keeps me going and able to work. I believe without the treatments I would only be half as productive -so every penny I spend at the Living Centre Clinic is worth it!

Dr A Lalani

Dentist
I am a very enthusiastic tennis player. Tennis means a lot to me and I have been playing it since my childhood. Following an injury I went to see the Living Centre Clinic. My knee got better in days and I started playing tennis again to my great relief.

Vesna Collins

Lawyer
I suffered from terrible muscle pain and migraines due to a childhood sickness. However, since coming to the Living Centre Clinic, they have drastically reduced. Vispi is truly a miracle worker! Both Vispi Jamooji and his amazing team always make me feel welcome, happy and healthy!

Nezil Nelson

PA